By Lauren McCormack, Executive Director, Marblehead Museum, Marblehead, MA
Agnes Russell is one of only three known burials of a Person of Color in Marblehead's oldest cemetery, Old Burial Hill. Her gravestone has been lost for over 40 years, but now there is a movement afoot to again mark her grave honorably while contextualizing her history.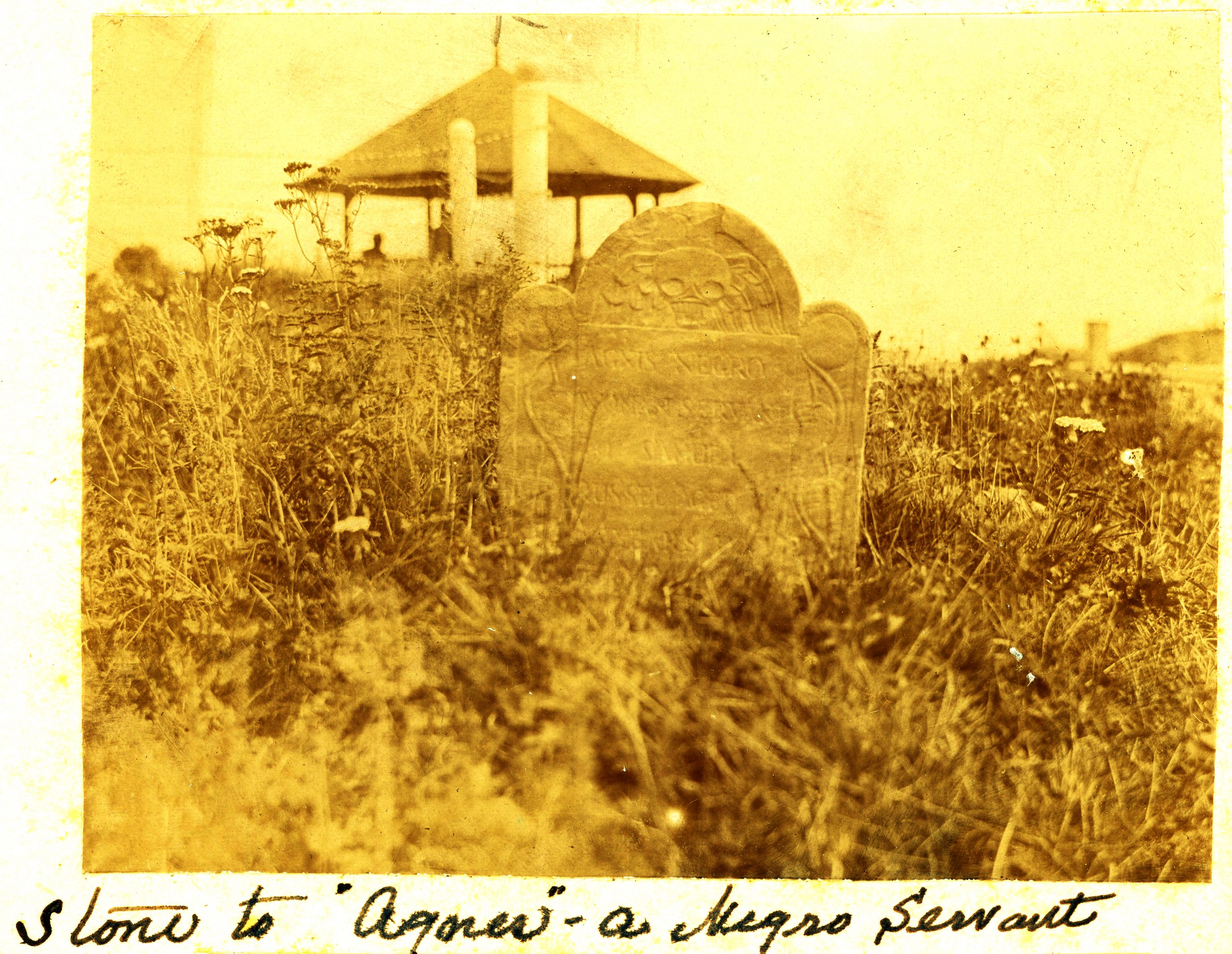 Agnes (or Agnis) first appears in the written record at the death of her enslaver, Samuel Russell, Sr., in 1711 at about age 66 [MVR]. A year later, Russell's estate administrators inventoried his real and personal estate for probate. There, sandwiched between wooden ware and an old shallop (a boat), is listed "one negrowoman" valued at 20 pounds [ECPR]. She is unnamed. It is not until Agnes is baptized at Marblehead's St. Michael's Anglican Church on March 11, 1716 that we learn her name [SMC]. At that time, she was a mature woman of about 41 years.

What happened to Agnes after Russell's death? Most likely she stayed with his widow, Elizabeth, as part of her widow's third of the estate. Or, perhaps, Samuel Russell, Jr. or one of his two sisters "inherited" Agnes.
Agnes died on July 12, 1718 at the age of about 43, according to her headstone. In an unusual move, the family buried her in their plot at the top of Old Burial Hill. At a time when some people were still being buried with impermanent wooden markers, hers was stone featuring the carved motifs typical of the era. A death's head with wings caps the stone with leafy vines on both sides.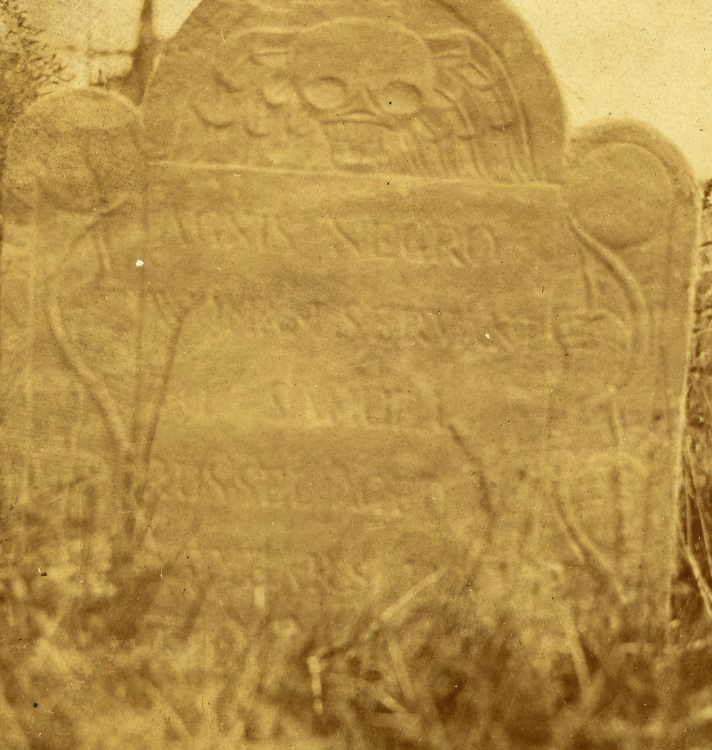 The stone read:
"AGNIS NEGRO

WOMAN SERVANT

TO SAMUEL

RUSSEL AGED Abt [about]

43 YEARS DECd [deceased]

JULY Ye 12th 1718″
Sometime in the 1970s or so, Agnes' stone was stolen during a spate of gravestone robberies at Old Burial Hill. Today, only a small, flat slab marks her grave. To add insult to injury, her death date is incorrect. Thanks to a campaign led by the Marblehead Racial Justice Team, a project is underway to better mark and contextualize Agnes' gravesite. You can learn more and help by visiting their GoFundMe page.
In 2020, Mabel Sliney, Marblehead High School senior and student representative to the Marblehead Task Force Against Discrimination, filmed an interview with local pastor James Bixby, local activist Judy Gates, and local historian Louis Meyi, about Agnes' gravestone, which serves "as a reminder of a time when there was slavery in New England." The Marblehead Racial Justice Team is spearheading a fundraiser to have her gravestone refurbished and proper signage erected to educate visitors to Old Burial Hill.
Learn more at https://marbleheadmuseum.org/bipoc/
—
Bibliography
ECPR. Essex County, MA: Probate File Papers, 1638-1881. Online database. AmericanAncestors.org. New England Historic Genealogical Society, 2014. (From records supplied by the Massachusetts Supreme Judicial Court Archives.)
https://www.americanancestors.org/DB515/i/13855/24417-co1/247754578. Accessed 2.4.2021.
MVR. "Early Vital Records of Massachusetts From 1600 to 1850." Massachusetts Vital Records Project. https://ma-vitalrecords.org/. Accessed 2.4.2021.
SMC. St. Michael's Church Records.