As promised, for this blog post, I will let my students speak. I teach sixth grade at a public charter middle school on Cape Cod. I have 84 students in my ELA classes. They cycle through in groups of 14 this year, sitting in beach chairs on the classroom floor as stiff breezes scatter leaves through the open doors. They huddle in their pompom hats and, occasionally, blankets. Half of their learning happens at home asynchronously, and for the other half we do the best we can, feeling fortunate for our time together and for balmy fall days.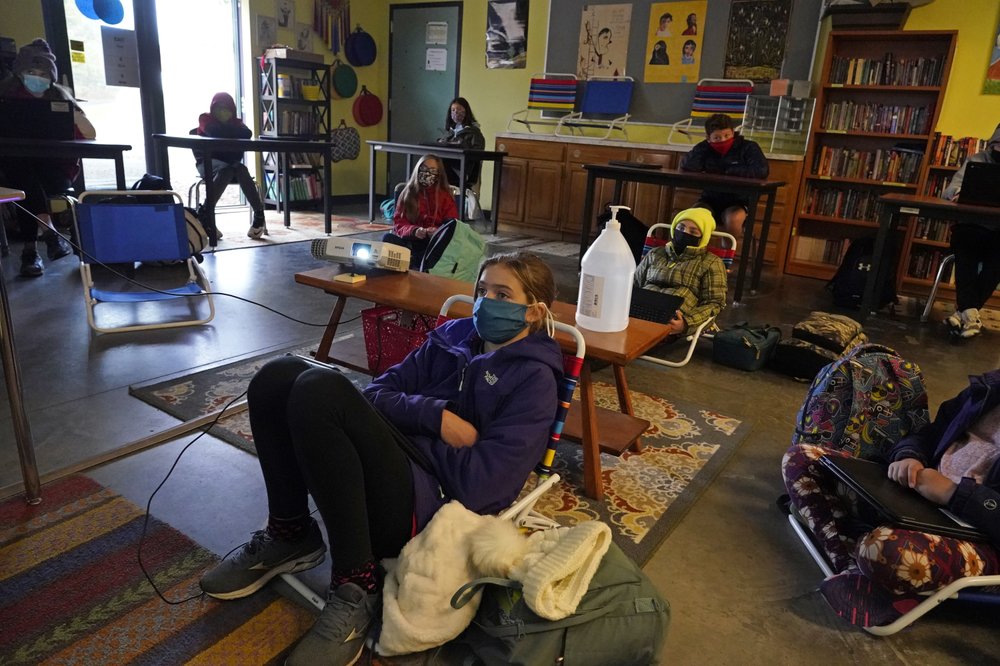 The poems I am sharing are the culminating project for a monthlong study of the Wampanoag and English settlers around the time of the first Thanksgiving. We've finished the research paper and talked about poetry tools, and now they sit down to write. I chose poetry for this unit because I believe students can take their research and their explorations and dig into a deeper place of empathy with poetry. They choose a historical figure, either Wampanoag or English, and write a version of an ode to the person's life. I ask them to explore their person's internal and external motivations. I challenge them to be a writer who weaves in sensory details to take us into the world and experiences of this person. In the end, they must also consider how their person would want to be remembered.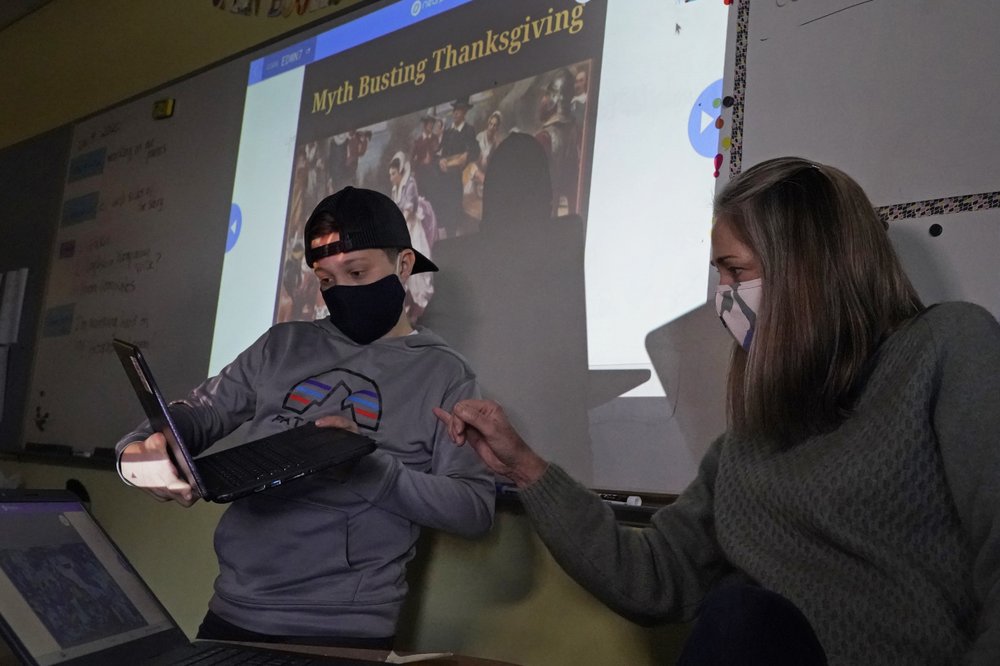 This year, some reporters came to look at our work. I'll put the links in here. The students were great. They remained focused, ignoring the cameras and lights and getting to work. They've had lots of distractions in their learning environments this year. Maybe this was just another interruption, maybe not even the biggest one, and they've developed an ability to tune it all out. I am glad that their hard work was noticed, regardless.
https://www.youtube.com/watch?v=QyW2bpUSrOE
https://apnews.com/article/thanksgiving-students-truth-complex-90f5d1b599eeb1b6c3a15bec2cc781fd
I'm very proud of the final poems my students write and delighted to share them here. I hope you enjoy them and appreciate how deeply they have come to know this history, and how much good work we can do in the teaching of history if we are open to new approaches and willing to address the harder truths of the past. It's work that we can all do in our classroom, and I encourage others to commit to lessons and experiences that rebalance the narrative in our schools.
Weetamoo
I gaze at the angered waters of the river
And then back up at the dull blue sky
It would have been pretty if my fate was unknown
I smell the familiar smells twirling and dancing
with the ugly smell of gunpowder
The sloshing water echos in my ears
Attempting to block out the thunder of my chase
It was cold
The water was cold, like the English.
I squinted my eyes shut
and prayed to see the warm months of summer
To see the younglings eating Strawberries in June
And the sun staining the fresh ears of corn.
I fear the newcomers
who we falsely perceived to be helpful
But the river sweeps that fear away
As it begins to sweep me away
I remember the awful things they did to my husband
And our people
When Ousamequin was the strongest of men
Now the English are
But they rule with fear
Ousamequin ruled with loyalty.
I worry the river has swept our culture away
That it will push it down to the point of no return like it has me
I try to breathe in but I choke
At least I'm not breathing
the infections and gunpowder the English reek of
But I don't breathe anyways.
The river should of saved me, I could be safe on the other side
But I hit rock bottom now
The side is too far away to reach for
My chest hurts
I try to breathe another breath
But it seems as though my last breath has already been used
I hope my people keep the culture I lived in till my final moments
I hope it doesn't fade away like me.
Squanto Poem
Today, I sit in this place
Speaking for my chief, Osamequin
Speaking for him to these new men
These settlers
I sit here and study the village
I can smell the men's wives cooking dinner in their huts
I can hear them clanging the pots and pans as they cook, nervous
Our presence gives them fear
Funny
Their presence does the same
I reach out and touch the wall of a hut
Rough. Uncomfortable. Bleak.
The same can be said for the newcomer's clothes
None of the soft deerskin we use
Rough. Uncomfortable. Bleak.
I sit here, pretending to be calm
Being kind out of fear
Knowing that they might do it again
They might take me again
And that this time
I might not be so lucky
I remember the ship
The creaking
The port
The weeping
They took us
We shouted at them, we wanted to go back
I was lucky that time
The others
Not so much
I worry that my people no longer trust me
I have been gone too long
Gone to Europe
Gone to the murderers
Gone to the kidnappers
They do not trust me
When I am gone
I wish that my people would know
Know that I was loyal
That I was true
That I never stopped trying to come back
That I was Wampanoag
William Bradford
I can hear the birds singing their song.
Winter has killed half of us.
As I write, I can smell a horrible smell everywhere.
There is no wind to blow away the awful smell.
I feel my hardwood table.
I feel the grain of the wood.
The wood that I write on.
I feel my cold pen
Telling history in words.
We are scared.
We can barely cling to survival.
The Indians could be dangerous.
They could attack at any moment if we don't keep the peace.
I remember when we were in England. I remember when I was little.
When my parents were still alive in Austerfield.
When we were not allowed to practice our religion.
Was this the right choice?
I worry for our colony.
We worry of our state.
We could starve.
Our get attacked.
I worry we will be brushed to the side, like dirt on the ground.
I want to be remembered as a writer.
A man that kept the peace.
Someone who stood with his beliefs.